Babyscripts myJourney
A partner during your pregnancy – in your pocket or purse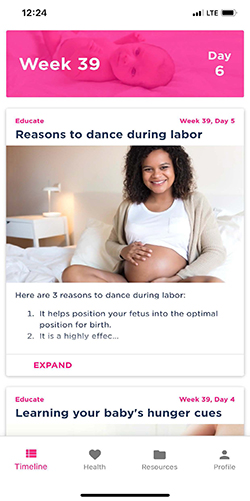 Babyscripts myJourney is a free phone app that …
GUIDES you, every day, through your pregnancy journey, labor/delivery and your first year with your newborn.
SUPPORTS and INSPIRES you with advice, tips, news, articles, videos and other resources – all customized to your pregnancy and due date.
HELPS monitor your health at home, so you and baby stay as healthy as possible.
Babyscripts myJourney is free, easy and convenient.
Your MetroHealth provider will need to sign you up.
Your partner can also use the app.
Log in daily to learn what you need to know at your stage of pregnancy, including trusted advice from experts on nutrition, exercise, newborn care, potential concerns, life during pregnancy and much more.
If your provider feels like you would benefit from home blood pressure monitoring you may also receive a free Mommy Kit, which includes a blood-pressure cuff that will allow you to regularly monitor your blood pressure from home. This will help your provider keep you and baby as health as can be.
To learn more about Babyscripts myJourney, talk to your provider today.
Babyscripts Technical Support
The Babyscripts Support Team is here to help patients with:
Device setup and pairing
Device troubleshooting
General device or app questions
Support is available Monday – Friday from 9 a.m. to 6 p.m.
Outside of those hours, patients are welcome to call or email, and their message will be returned promptly at the start of the next business day.
To reach Babyscripts Technical Support, email sup[email protected] or call 844-692-2297. For medical support, call the MetroHealth OB-GYN department at 216-778-4444. For any medical emergencies, call 911.

©Copyright 2022 The MetroHealth System | 2500 MetroHealth Drive | Cleveland, OH 44109 | 216-778-7800 | All Rights Reserved.
There is no rating available for this provider for one of two reasons: he or she does not see patients, or has not received the minimum number of patient survey responses.