Stroke Survivor Stories
Cyclist Recovers and Gives Back After Stroke

At 43 years old, competitive cyclist Mark Ballenger had a severe stroke in May 1997. He was treated at University Hospitals with a hemicraniectomy and survived. The doctors remarked that they never expected Mark to walk again. He then was transferred to MetroHealth for many weeks of therapy.
Since that time, he has recovered well, even with a left-side deficit. He could resume working and driving and has also returned to competitive cycling. Mark is grateful to MetroHealth for his recovery. He presently visits the stroke patients on 9C at MetroHealth with a family member and a therapy dog named Emma.
Extensive Rehab Puts Patient Back in the Driver's Seat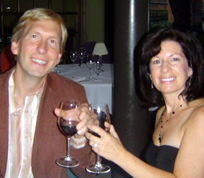 Mary Pumper (pictured right) tells the story of her husband, MetroHealth patient John Pumper:
"On March 30, 2007, my husband John suffered a major stroke. It was a Friday and he was getting ready to travel to visit our oldest daughter in college for Dad's Weekend. He was alone at the time when it happened; I was at work and our youngest daughter was at school.
I began to feel that something was wrong when he didn't call as he usually does when he travels. So, I called him and he did not answer. I called again, and still no answer. When I called my daughter to see if she had heard from him, I became very worried when she told me that she had not. Shortly after, I left school (I am a teacher) and drove home, fearing something was wrong.
When I arrived home, I saw John's car in the garage. I ran inside and found him on the floor. He was conscious, but unable to move or to speak. He was life-flighted to the Cleveland Clinic where he spent five days, three of them in the Neuro Intensive Care Unit. John suffered a major stroke because of a dissection of his left carotid artery and is very lucky to be with us now. He was only 45!
After he stabilized, the neurologist gave the OK to begin his stroke rehabilitation. MetroHealth was very highly recommended, so John's parents and I came to check it out. We were very impressed with the caring, knowledgeable staff and wonderful facilities at MetroHealth, so we chose it for his rehabilitation.
The very next week after his stroke, John began to move again with the help of the wonderful therapists. After two weeks, he began to speak again! Three months after his stroke, our whole family went to Disney World for a week-long vacation. It was wonderful! John walked around the parks — no wheelchair — and we had to keep up with him!
John has had a long road back. He is still working on recovering, but has made such remarkable progress! He even addressed the Stroke Convention at MetroHealth in September of 2008, speaking to a group of stroke survivors and their families with a speech he wrote and delivered — quite remarkable, given that he could not speak at all after his stroke!
John has even recently passed his driver-test and is driving again on his own. This is the result of the driver rehabilitation program at MetroHealth.
We are so grateful to the wonderful therapists, doctors, and nurses who have all contributed to John's recovery."
Stroke Patient Thankful for 'Angels'
MetroHealth patient Dick Gerrick reflects:

August 1, 2007 started out like any other day at the office with one very large exception: While seated at my desk, when I reached for my cup of coffee, my left arm was acting like it belonged to another person. One of my co-workers noticed that I didn't seem to be acting normally and asked me if I was OK? When I replied "no," the next thing that I remember is my superior standing next to me with EMS at my feet asking me questions.
I didn't remember much more until I arrived at MetroHealth and a "flock of angels" dressed in scrubs descending upon me. Not much time had passed before it was determined that I had experienced an acute ischemic stroke. And in a short period of time they administered a drug called t-PA, a clot buster.
As is evident today, the lifesaving sequence of events following my stroke were critical to my recovery. From the first responders to the emergency room "angels," I am now completely recovered with no physical evidence of a stroke.
Thank God for my "angels!"