Expert Neurosurgery Care for Children of All Ages at MetroHealth
Caring for children isn't the same as caring for adults. They need physicians who understand how to care for their developing bodies, and that's especially true for conditions that involve a child's developing nervous system. You can trust MetroHealth's Pediatric Neurosurgery department to care for the most complex medical conditions, from birth up to adulthood.
Schedule an appointment today with a MetroHealth neurosurgeon.
Call 216-778-8822.
Conditions We Treat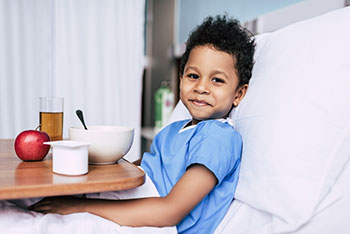 MetroHealth neurosurgery staff undergo advanced fellowship training in Pediatric Neurosurgery and are on the faculty at Case Western Reserve University's School of Medicine.
They treat the following conditions:
Aneurysms
Arachnoid cysts
Arteriovenous malformations (AVM)
Brachial plexus palsy
Brain cancer or brain tumors
Cavernous angioma or hemangioma
Cerebral Palsy
Chiari Malformation
Congenital malformations of the brain and spine (present at birth)
Craniofacial syndromes
Craniosynostosis
Dermoid Cysts
Epilepsy and seizures
Genetic disorders
Head injury/brain trauma
Hydrocephalus
Moyamoya disease
Myelomeningocele
Neurocutaneous syndromes including neurofibromatosis and tuberous sclerosis
Pediatric disc disease
Pediatric spinal tumors
Pediatric Stroke
Peripheral nerve injury
Plagiocephaly
Spasticity
Spina bifida and spinal dysraphism
Spinal cord disorders, including tethered spinal cord
Spinal deformity including scoliosis
Spine tumors
Syringomyelia
Tethered Cord Syndrome
Torticollis
Traumatic brain injury
Traumatic spinal injuries
Brain Tumors
Chiari Malformation
Craniosynostosis and Craniofacial Disorders, in conjunction with Plastic Surgery
Congenital malformations, such as vascular malformations, skull malformations and defects
Epilepsy
Hydrocephalus
Neurofibromatosis
Neurotrauma with MetroHealth's Level II Pediatric Trauma Center
Positional Plagiocephaly
Shaken Baby Syndrome
Spasticity
Spina Bifida
Tethered Spinal Cord Syndrome
Specialty Clinics
MetroHealth offers specialty clinics for craniofacial conditions, hydrocephalus and spina bifida that allows patients and their families to see a variety of specialists and services in one convenient visit.
Craniofacial Clinic
Treatment for cleft lip, cleft palate and craniosynostosis
Located at MetroHealth Main Campus
Children can be evaluated by multiple specialists in one day: dentistry, oral maxillofacial, and plastic surgery
Hydrocephalus and Myelodyplasia Clinic
Treatment for hydrocephalus and infants with CSF shunts due to other etiologies
Management for children with Spina Bifida and other congenital spinal abnormalities
Located at MetroHealth Main Campus
Children can be evaluated by multiple specialists: pediatric neurology, neurosurgery, developmental pediatrics, and a consultant on available county services
The Most Advanced Technology
MetroHealth's Pediatric Neurosurgeons use the most advanced approaches in caring for neurological conditions.
Intra-operative navigation: MetroHealth's neurosurgeons utilize intra-operative 3D imaging and navigation to deliver a fast and precise representation of your anatomy during surgery. Having this tool improves outcomes by making complex cases more effective, safe and accurate.
Neuroendoscopy: Minimally invasive procedures for a variety of cranial conditions, including complex hydrocephalus and shunt placement.
Let MetroHealth's Pediatric Neurosurgery experts help guide your child's care from treatment through recovery. To make an appointment, call 216-778-8822.
Leadership
Robert T. Geertman, MD, Ph.D. is an Assistant Professor of Neurosurgery at Case Western Reserve University School of Medicine and MetroHealth Medical Center. He completed his neurosurgery training at University Hospitals of Cleveland and underwent additional fellowship training in pediatric neurological surgery at Chicago Lurie Children's Memorial Hospital.
He is trained in Minimally Invasive and Neuroendoscopy, General Surgery, Pediatric Neurosurgery, Spine Surgery and Stereotactic Radiosurgery. Dr. Geertman is board certified by the American Board of Neurological Surgery. His clinical practice focuses on the care of patients with:
Benign and Malignant Brain Tumors
Skull-Base Disorders
Pediatric Cerebrovascular disorders including Moya moya
Minimally Invasive Neurosurgery including Neuroendoscopy
Pediatric Neuro Trauna
Pediatric Neurosurgery
Hydrocephalus
Management of Spasticity
MetroHealth and CWRU School of Medicine Affiliation
As a major teaching hospital in Northern Ohio, MetroHealth has maintained a tradition of excellence in academics and research. Intensive training for physicians and medical professionals is offered in neurological surgical specialties.
MetroHealth's Department of Neurological Surgery provides Case Western Reserve University (CWRU) School of Medicine students with the chance to learn and practice in multiple clinical settings. The curriculum offered in the Neurological Surgery program is viewed as an extension of the CWRU's academic and research expertise.
Source: https://case.edu/medicine/crsp/affiliations
Second Opinions
Receiving the diagnosis of a serious neurological condition can be overwhelming and leave you with more questions than answers, especially when a major surgery or procedure is involved.
If you are interested in receiving a second opinion about your child's diagnosis, The MetroHealth Department of Neurological Surgery offers patients the ability to see our pediatric neurosurgeon and help you determine the correct next step for your child.
Call 216-778-8822 to schedule your second opinion today.
Our Doctors/Medical Providers