Our Donors
Newly Established "Band Aid" Fund Helps Patients with Non-Medical Expenses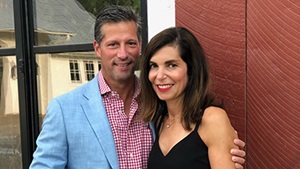 In early 2021, Chip and Karen Chaikin pledged $250,000 to the Institute for H.O.P.E.™ for the creation and management of the Anita Chaikin Band Aid Fund. The fund, named in memory of Anita Chaikin Schvimer, their mother and mother-in-law, is designed to assist eligible patients on a case-by-case basis with living expenses.
The gift honors the care that Anita, who passed away in 2011, received at MetroHealth. The Chaikins were struck by the level of compassionate and empathetic care she received at the end of her life. It was the best medical experience they had, even though it was one of the saddest times of their lives, they said.
At the time, the family requested donations in her memory to MetroHealth's Senior Health & Wellness Center. This time around, they wanted to make the kind of impact that would be able to respond quickly to a patient's immediate short-term needs.
"You shouldn't have to worry about things like having the money to pay rent or get your car repaired when you're focusing on medical care," Chip Chaikin said. "We wanted a way for people to get the extra help they need without having a lot of red tape slowing down the process."
Patients will be identified by MetroHealth caregivers. Their needs will be determined in part by MetroHealth's Social Determinants of Health screening, which identifies immediate needs (food, transportation, housing and other social services, for example), that affect a person's health.
The Chaikins remember Anita – a woman who finished college while raising three young children by herself after the death of her first husband – as "pure sunshine."
"It's very fitting to have her name on this fund, but if she were here, she'd tell us to take her name off of it," Karen Chaikin said. "We hope that others who are looking for a way to give back will think about potentially donating to a fund like this."
---
Clark Family Foundation's Gift Expands Services for Pediatric Patients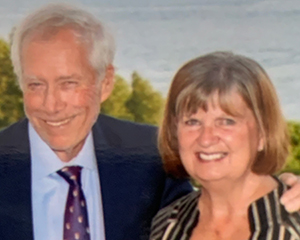 David and Jacquie Clark's philanthropic strategy is a simple one.
"What we gravitate toward are things to help individuals with special needs, to help their lives progress rather than to stay stagnant," said Jacquie Clark, a retired school speech pathologist.
The Clarks, who reside in Huron, Ohio are the force behind the addition of a sensory room for a Sandusky agency that provides services to adults with developmental disabilities. With financial support from the David and Jacquie Clark Family Foundation, the space opened in late 2019.
The foundation also provided funding for a two-year certificate program at Bowling Green State University Firelands for students with intellectual disabilities.
When it opens in 2022, the Pediatric floor of MetroHealth's new hospital building will feature a multi-sensory room for inpatients. A generous gift from the foundation is making that possible.
The therapeutic space will be a place where a child can engage with and respond to a variety of sensory experiences such as touch, sound, visual, spatial awareness, and motion. It will also be a place of refuge from the hospital room, which often can be overstimulating.
Prior involvement with the creation of a sensory room made the Clarks eager to help MetroHealth achieve a long wished-for addition to the Pediatric Department.
"We had done so much research and we saw the advantage of it in Sandusky," Jacquie Clark said. Added David Clark, "It was in our wheelhouse. We didn't mind duplicating those efforts."
All pediatric patients – but especially those with neurodevelopmental or neurosensory disorders such as Autism Spectrum Disorder, Intellectual Disability, or even hearing impairment – will benefit from the multi-sensory room. MetroHealth already has several successful outpatient programs. The new space will better meet the needs of children who are particularly vulnerable to the stress of the inpatient environment.
The room's functional features are being developed, said Melissa Armstrong-Brine, PhD, a clinical psychologist in the Division of Child and Adolescent Psychiatry at MetroHealth. "The gift has been a wonderful surprise and has opened up a lot of exciting opportunities," she said.
---
UnitedHealthcare Collaboration Advances Programs that Address Social Determinants of Health

UnitedHealthcare's partnership with MetroHealth is providing $500,000 in funding to help expand two programs addressing social determinants of health for underserved populations in the greater Cleveland area. The three-year collaboration, which began in 2020, expands initiatives targeted at high-risk pregnant mothers and medically complex patient populations. Both programs – the Mom & Baby Bundle program for high-risk pregnant women and their infants, and the Red Carpet Care program for medically-complex patients or frequent emergency room visitors – provide or connect participants to wrap-around services such as housing support and food assistance, as well as financial and employment resources to improve health outcomes.
Each program is increasing the number of patients they are able to serve. In addition, the collaboration is enabling MetroHealth to track patient outcomes and identify the causes of poor outcomes. The two organizations are working together to design and test effective care management strategies based on program findings, which will have a direct impact on many of UnitedHealthcare's Medicaid members in the Cleveland area.
"The need for payer and provider partnerships to address the health needs of the underserved has never been more evident," said Mike Roaldi, chief executive officer, UnitedHealthcare Community & State Ohio. "The COVID-19 pandemic has required all of us to step up our support services and come together for the sake of community health.
"We are committed to helping drive better health outcomes for underserved populations in Ohio and are grateful to partners like MetroHealth for their commitment to a mission we both share."