Donor Impact
Read more about our donors whose support funds dozens of MetroHealth programs that make Northeast Ohio and its residents healthier every day.
July 2020
Unrestricted Gifts Make a Big Impact
In November 2018, The Bank of America Charitable Foundation presented a ceremonial check for $1 million to MetroHealth President and CEO Akram Boutros, MD, FACHE and leaders from The MetroHealth System Board of Trustees and The MetroHealth Foundation Board of Directors. The Bank of America leadership team did so without any request that the money go to a specific program.
Instead, the first lead corporate campaign donor gift went toward MetroHealth's Building for the Future Fund, which supports the four pillars of MetroHealth's philanthropic campaign, "For All of Us."
For Our Health.
For Our Neighborhood.
For Our Economy.
For Our Future.
Read more about the campaign here.
Gifts to Building for the Future make it possible for MetroHealth to achieve our bold vision for a 21st century model of care, improving health, creating opportunity and strengthening community.
That care looks like the sober housing pilot program that will help give women a new chance at a healthy life with their newborn babies.
It looks like education and research that lead to the discovery of breakthrough treatments. Our patients, who have a lot more life to live in the face of devastating illness and injury, benefit from those new therapies.
It looks like job training that provides motivated high school students with a pathway into health careers.
Our bold vision is infused with energy and resources from visionary philanthropists who are able to look beyond a particular program or service, and who entrust MetroHealth to invest their gift in the most effective way possible.
To make a gift, go to the Foundation donation page and select "Building for the Future" or contact Kate Brown at 216-778-7509.
---
June 2020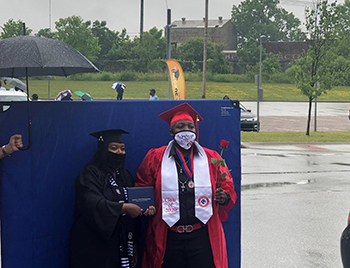 Lincoln-West School of Science and Health at MetroHealth Celebrates Second Graduating Class, Continues to Receive Community Support
Thirty-five students at Lincoln-West School of Science and Health at MetroHealth received their diplomas on June 22, 2020 during a drive-up commencement ceremony that was streamed live from the Cleveland Metropolitan School District website. The students are part of the second graduating class at the school, which opened in 2016 at MetroHealth. Teachers, administrators and MetroHealth staff hosted a drive-by parade, hand-delivering caps and gowns and a box of other surprises to the homes of graduating seniors earlier in the month.
In its fourth year, the Lincoln-West School of Science and Health student body was comprised of 270 students in grades 9 through 12 from nine countries. Graduation requirements include mastering core content and a capstone project and an internship experience at MetroHealth, providing real-world work experience in various departments.
The new graduates will continue to receive support and encouragement through the A.I.M.S. (Academic Inspiration for MetroHealth Success) Mentoring Program, which pairs alumni as mentees with MetroHealth employees as mentorsto navigate the post-secondary journey.
Several local foundations have given Lincoln-West School of Science and Health at MetroHealth significant grants to help the school grow. Grants from The Abington Foundation, The Higley Fund, The Lubrizol Foundation, The Reinberger Foundation, The SunTrust Foundation, The Thomas H. White Foundation and Westfield Insurance Foundation are supporting classroom space renovations and major equipment, including a new chemistry lab.
JPMorgan Chase Foundation recently awarded $125,000 toward the expansion of work-based learning opportunities in technology training, allowing eligible 11th and 12th grade students to enroll in the Information Technology certification program operated by Cuyahoga Community College.
And a $10,000 grant from the AT&T Foundation has launched Tri-C's State Tested Nursing Assistants (STNA) Program at the school at no cost to students. Students who successfully complete the program will receive state certification from the Ohio Department of Health.
Lincoln-West School of Science and Health at MetroHealth combines a traditional curriculum with interactive learning in a health care setting. Upperclass students spend two days a week at the health system's main campus on West 25th Street, while 9th- and 10th graders visit one day a month. "Home" is Lincoln-West High School on West 30th Street, two blocks from MetroHealth.
To support the Lincoln-West School of Science and Health at MetroHealth, go to the Foundation donation page and choose "Lincoln-West High School Renovations" or call 216-778-5665.
---
December 2020
Small and Significant Donations Alike Help MetroHealth's Ongoing Response to COVID-19
From the time Ohio's "stay-at-home" order went into effect in March 2020, MetroHealth received monetary and in-kind donations from generous individuals – including a $500,000 gift from an anonymous donor – family foundations and corporate supporters. Some donations, such as that from the DiGeronimo Family Foundation, were directed to the areas of greatest need facing the health system.
Fifteen thousand full-face shields – donated by Cleveland-based Lubrizol Corporation, which collaborated with Nike to make the equipment available to health systems in several U.S. cities – were shipped to MetroHealth.
Gifts from the Stephen McHale Family Foundation Fund and other donors were directed to assist employees with day care, counseling and food delivery, and safe respite for caregivers in direct contact with COVID-19 patients.
A donation from The PNC Financial Services Group, Inc., through its PNC Foundation, has provided meals for thousands of MetroHealth employees who continue to work at the main campus and other ambulatory sites.
Other donations were used to provide essential items to hundreds of people in the neighborhoods surrounding MetroHealth Medical Center and across Cuyahoga County.
The MetroHealth Institute for H.O.P.E.™ coordinated a large part of the COVID-19 response, overseeing efforts to deliver food, medication, and other critical supplies, including special care packages for COVID-19-positive mothers whose newborns were in MetroHealth's Neonatal Intensive Care Unit (NICU).
Meals and toiletry kits were provided to the homeless. Toiletry kits also were prepared and delivered to individuals living in men's and women's shelters.
To date, MetroHealth has received more than $2 million in gifts and in-kind donations directed at helping MetroHealth respond to the many needs arising from the pandemic. Generous in-kind donations from across the community include nearly 180,000 pieces of equipment, more than 5,000 cloth masks, and more than 13,000 meals and snacks.
To support MetroHealth's ongoing efforts to respond to the COVID-19 pandemic, go to the Foundation donation page and choose "COVID-19" or call 216-778-5665.