Philanthropy Impact
Thank you to every one of our generous donors. Your support funds dozens of MetroHealth programs that make Northeast Ohio and its residents healthier every day.
2018 News
MetroHealth is one of only two organizations to receive a grant from Susan G. Komen Northeast Ohio for the 2018-2019 grant year. The BREAST (Bringing Education, Advocacy and Support Together) and Amigas community outreach programs will receive $55,000. The BREAST/Amigas program provides free clinical breast exams and mammograms, and free or reduced-cost follow-up care to low-income women in Cuyahoga County who are uninsured or underinsured.

Thank you to Modern Yoga Cleveland for hosting a Yoga fundraiser at their Strongsville studio on March 16, 2018, in support of MetroHealth!

Thank you to Delta Delta Delta Cleveland West Side Alumnae for supporting MetroHealth's Child Life Patient Care, Education and Research Fund and the Comprehensive Burn Care Center at MetroHealth with the Mad for Metro fundraiser on April 13, 2018, at Vosh in Lakewood!

Thank you to the more than 700 runners and walkers who came out on May 19, 2018 for the Hy-5: The Hyland 5K Run and 1-Mile Walk, and to Hyland in Westlake for once again hosting the fabulous event, in its 10th year!
| | |
| --- | --- |
| | Waiting for the race to start |
| | Akram Boutros, MD; Hyland SVP Brenda Kirk and Hyland President and CEO Bill Priemer |
Thank you to the American Cruisers for organizing the 26th annual MetroHealth Burn Center Car Show which supported MetroHealth's Comprehensive Burn Care Center, and to everyone who attended the event on May 20, 2018.


Thank you to the DiMarino family for organizing the fourth annual NICU Benefit Golf Outing at Shale Creek Golf Club on Friday, May 25, 2018, and for all of the golfers and friends who attended! The event supports the MetroHealth Neonatal Intensive Care Unit (NICU).

Thank you to Howard Hanna Real Estate Services, which on June 20, 2018 presented MetroHealth's Child Life and Education Program and the Aamoth Family Pediatric Wellness Center with a $30,529 donation. Since 2009, "Choo Choo Chow Chow" events at Howard Hanna's Northeast Ohio branch locations have raised nearly $170,000 for MetroHealth. Nationally, the real estate company's Children's Free Care Fund provides free care at children's hospitals and related programs and activities.


The second annual Resiliency Run, held Saturday, June 23, 2018, raised money for the John A. Gannon Trauma Center and the Comprehensive Burn Care Center at MetroHealth. Thank you to the 250 people who supported the 5K Run and 1-Mile Walk at MetroHealth!
Thank you to Ginell Santavicca for organizing the third annual Steve Dohm Dice Run. The event, which drew 150 motorcyclists on Sunday, June 24, 2018, raised $3,600 for MetroHealth's Pediatric Burn Unit to support the burn camp and winter retreat for pediatric patients.
The seventh annual Altieri Memorial Golf Outing, held on June 29, 2018 at Sand Ridge Golf Club in Chardon, raised nearly $11,000 for the MetroHealth Cancer Center. Thank you to everyone who participated in and supported the event, which is held in memory of Brett Altieri, a patient and supporter of MetroHealth who passed away in 2012.
Thank you to everyone who supported the fifth annual Raising the N.E.T.s Volleyball Tournament, held at Force-Sports Eastlake on Saturday, July 28, 2018. More than 100 players on 16 teams competed in the tournament, which raised more than $10,000 for the MetroHealth Transformation.
The 19th annual NEO Chapter of Society of Fire Protection Engineers Golf Outing, held on Friday, August 3, 2018 at Tanglewood Club in Chagrin Falls, raised $2,500 for the Comprehensive Burn Care Center at MetroHealth. Thank you to everyone who came out to support the event!
Thank you to those who participated in the fifth annual Marc Kiszak Memorial Golf Outing on Saturday, August 18, 2018 at Valleaire Golf Club in Hinckley. The event, organized by Gary and Deb Kiszak in memory of their son, raised more than $4,000 for the MetroHealth Surgical Intensive Care Unit (SICU) in the John A. Gannon Trauma Center.
The 20th annual John A. Gannon Memorial Golf Tournament was a success, with more than 120 golfers on the Manakiki Golf Course in Willoughby on Monday, September 17. The event raised more than $38,000 for the John A. Gannon Trauma Center and the Comprehensive Burn Care Center at MetroHealth. Thank you to all of our participants and the following major sponsors: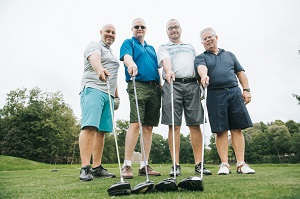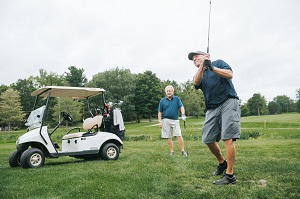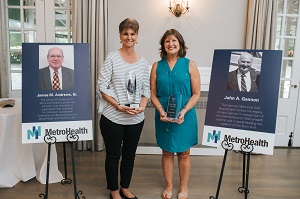 Presenting Sponsor:
Eagle Sponsor:
Birdie Sponsors: Boyd Watterson Asset Management; Ohio Council of Community Schools; Zenith Systems LLC

Par Sponsors: Christopher Brandt, MD; Hammes Company; Hartland & Co.; Reminger Co., LPA; Maloney + Novotny LLC; International Brotherhood of Electrical Workers; Cleveland Firefighters Association Local 93; Dr. and Mrs. Jeffrey A. Claridge; First National Bank; US Bank; Ohio Association of Professional Fire Fighters; PNC; Geauga Vision

Caddie Sponsor: Pipefitters Local 120
Thank you to the members and friends of the Central Bass Basin Club, which raised $3,200 for MetroHealth's Child Life and Education Program during its annual tournament, held on October 14, 2018. Over the past 23 years the tournament has raised nearly $46,000 for MetroHealth.
The Reinberger Foundation has announced a two-year grant totaling $50,000 to support MetroHealth's Food as Medicine program.
Thank you to Bank of America for its four-year, $1 million gift supporting MetroHealth's transformation.
The SunTrust Foundation has announced a $20,000 grant to support capital and equipment needs for the laboratory within the Lincoln West School for Science and Health at MetroHealth.
Thank you to the Fred A. Lennon Charitable Trust, which has given a one-year grant in the amount of $400,000 to support Functional Electrical Stimulation (FES) development at MetroHealth. In addition to the grant, the Fred A. Lennon Charitable Trust also has issued a challenge grant. For every dollar that MetroHealth raises, the Fred A. Lennon Charitable Trust will match that with an additional dollar, up to $600,000 over three years beginning in 2020, increasing the total award to $1 million.
Citizens Bank, one of the early proponents of the Food as Medicine program with $50,000 in grants, has recently given an additional $10,000 gift to MetroHealth for general support of the program.
Thank you to Bernie Moreno Companies, which on November 28, 2018 presented a check to MetroHealth for $21,947. MetroHealth is the first recipient of "Keys for Kids," a year-long campaign that launched in early summer to support children's initiatives at Northeast Ohio's three large hospital systems: Cleveland Clinic, MetroHealth and University Hospitals. During the months of June, July and August 2018 a portion of the proceeds from the sale of every new and used vehicle purchased at Mercedes-Benz of North Olmsted, Porsche of North Olmsted and Cleveland Motorsports was collected for MetroHealth. The money raised through "Keys for Kids" will benefit the School Health Program.
The Thatcher Family Fund has awarded a $5,000 grant to MetroHealth's Doctors On The Streets (DOTS) program, which provides critically needed health care services to Cleveland's homeless community. With the grant, the DOTS team – a small team of doctors, medical residents and other health care trainees – will purchase wool socks, hats and mittens to distribute while volunteering at their makeshift clinic in the basement at St. Malachi's Church on Friday evenings during the winter.