A Partner for Hope
Our patients, visitors and staff deserve the safety and friendship of a second K-9 Unit. Please help us find a Partner for Hope
A Partner for Hope
Our patients, visitors and staff deserve the safety and friendship of a second K-9 Unit. Please help us find a Partner for Hope
Help MetroHealth secure a second K-9 Unit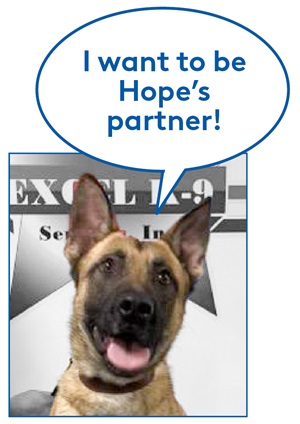 Hope the Dog keeps MetroHealth's patients, visitors and staff safe.
He also lifts spirits, melts hearts and comforts everyone around him.
But there's a problem: There's only one Hope.
He can work only one shift, five days a week.
Our patients, visitors and staff need his talents and calming presence at night and on weekends too!
We need a Partner for Hope.
Please help The MetroHealth Foundation raise $30,000 to secure a second K-9 Unit. (The $30,000 covers the costs of the dog, training for dog and handler, and other expenses.)

Please donate below and help us find a Partner for Hope.

UPDATE: In February 2023, MetroHealth Police found the perfect potential partner for Hope. This dog matches Hope's talents and temperament and would be a perfect partner.
We must act quickly to acquire this wonderful dog.
PLEASE DONATE BELOW