Environment and Equipment
Environment and Equipment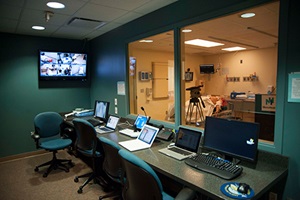 The MetroHealth Simulation Center's dynamic space offers versatility and convenience to accommodate a wide variety of programs. Highlights include:
High-acuity Bays
Clinic Exam Room
Procedure Area
Conference/Debriefing Room
Reception/Registration
Control Room
Exterior Entrance and Driveway
High-acuity Bays (2)
Bays can be configured to represent various clinical environments:
ED resuscitation bay
Labor and Delivery room
Intensive Care Unit
Inpatient exam room
Clinic Exam Room
Set up to mimic an urgent care or outpatient clinic room
Procedure Area
Flexible space to allow procedure training
Projection screen to allow demonstration videos and debriefing
Conference/Debriefing Room
Full presentation capabilities including an interactive "smartboard"
View live or recorded simulations

©Copyright 2019 The MetroHealth System | 2500 MetroHealth Drive | Cleveland, OH 44109 | 216-778-7800 | All Rights Reserved.
There is no rating available for this provider for one of two reasons: he or she does not see patients, or has not received the minimum number of patient survey responses.