Sim Center Programs and Capabilities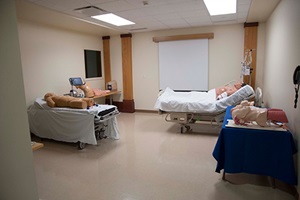 The MetroHealth Simulation Center (MHSC) provides its learners access to various types of simulation that includes standardized patients, task training, hi-fidelity manikins, virtual reality, second life and hybrid simulation in a safe risk-free learning environment. Our center offers technical and human simulation programs that extend across multiple disciplines and professions to allow learners to practice clinical and communication skills.
The MHSC staff will assist program coordinators and faculty to develop programs and scenarios that support their learning objectives. Technical, Standardized Patient, or hybrid simulation programs can be managed at our facility or "in-situ".
High Fidelity Team Simulation Training
Creating realistic scenarios that allow you to improve your team dynamics and communication skills in high-risk, low-frequency, and life-threatening situations
Teaching and reinforcing effective communication strategies during everything from standardized Pediatric and Adult Advanced Life Support scenarios to the most complex and unique scenarios
Facilitating training and assessment for the core competencies of programs
Technical Skills Development Training
Providing training for basic to advanced procedural skills
Ensuring repetitive practice of safe procedural skills before students or employees work with actual patients
Technical skills we provide include:

Lumbar puncture
Central venous line placement and maintenance
Peripheral venous (IV) line placement
Basic airway care
Pediatric, neonate, or adult intubation
Surgical airway
Chest tube placement and maintenance
Transcutaneous pacing, defibrillation, and synchronized cardioversion
Suturing
Ultrasound training
Standardized Patient (SP) Encounters
Improving interpersonal communication and physical exam skills of healthcare providers through SP encounters
Working with SPs to improve health care providers:

History and physical exam taking skills
Providing family-centered care
Interpersonal communication with family members during a full resuscitation
Simulation Faculty Development
Providing courses to improve faculty's understanding of and ability in providing simulation curriculum, including:

Best practices in simulation education
Choosing the most appropriate simulation modality
Curriculum development
Various debriefing courses

Providing practicum or more in-depth mentoring curriculum/services
In-Situ Systems Evaluation
Our simulators can be transported to your clinical environment, testing your systems and processes.
We have provided in-situ training/evaluation in ICUs, ERs, acute care units, new spaces, outpatient clinics, and non-clinical areas.
Additional Offerings
On-site or Remote Audio/Video Recording
TeamSTEPPS Training
American Heart Association Course Training (BLS, ACLS, PALS, NRP, PEARS)
Simulation Instructor Course
Moulage
Learners
The MHSC builds a strong multi-disciplinary approach to learning by providing interactive simulation activities, assessment, training and research for a diverse population of learners. Those who have engaged in learning activities through the simulation center include:
Physicians
Physicians Assistants
Residents, Post Graduate Fellows
Nurses, Nurse Practitioners
Medical, Dental, Nursing Students
First Responders, Firefighters
SWAT Team, Law Enforcement
Military Personnel
Airlift/Flight Medical Teams
Middle/High School/College Students
Researchers