Homemade Mask Donations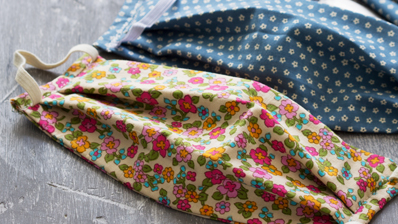 MetroHealth is grateful to everyone who has generously supported our staff, patients, and community during the COVID-19 crisis. We continue to take critical steps to ensure the health, safety and well-being of those we serve.
There are many ways you can help us fight COVID-19. This includes creating cloth masks for patients, including children over the age of two, MetroHealth non-clinical employees and our community partners. Our staff also appreciate the homemade headbands with buttons to attach to ear loops.
How to Donate Fabric Face Masks
Mail to:
The MetroHealth System
Volunteer Services - C-180
2500 MetroHealth Drive
Cleveland, OH 44109
Drop Off at MetroHealth Main Campus:
Call Volunteer Services (216-778-4471) to arrange a time to drop off your donation.
Drive to the Towers entrance at MetroHealth Medical Center, and someone will meet you at your car to accept your donation.
Please do not park and come in.
Remember to include your name and address with your donations
Questions?
Contact Julie Nations at [email protected] or Tiffany Chandler at [email protected]

©Copyright 2021 The MetroHealth System | 2500 MetroHealth Drive | Cleveland, OH 44109 | 216-778-7800 | All Rights Reserved.
There is no rating available for this provider for one of two reasons: he or she does not see patients, or has not received the minimum number of patient survey responses.