Behavioral Health Center FAQs
Why is a Behavioral Health Center needed?
Cuyahoga County's behavioral health care system is in a state of crisis. County residents are suffering from mental illness or substance abuse disorder in unprecedented numbers. The devastating impacts of opioid addiction in the county are also much higher than national averages.
A 2019 collaboration by the region's hospitals and public health partners identified behavioral health as one of the top five priorities in the county needing immediate attention. There are not enough inpatient beds available for treatment. And the COVID pandemic has further increased the need for behavioral health services across the region.
Cuyahoga County must address these issues aggressively and intelligently. We need a solution that benefits those who are ill, their friends and family, the police and justice system, and the local economy. Otherwise, the problems and costs stemming from untreated mental illness will continue to skyrocket.
MetroHealth plans to invest in a more efficient, targeted and thoughtful approach to address mental health and substance abuse with a new Behavioral Health Center that will add capacity, close gaps in treatment, and make economic sense for everyone. As always at MetroHealth, we will treat everyone who needs help – regardless of their ability to pay.
What are the shortcomings in the region's current behavioral health and substance abuse disorder system?
The overall approach to crisis care is confusing, inconsistent and inadequate. The system isn't designed to help patients with multiple, overlapping needs involving addiction and mental health. We have a patchwork of sometimes overlapping programs and services that do exceptional work individually, but lack the capacity, coordination and financial resources to fill the growing need for crisis care.
Too often, patients are unable to obtain the comprehensive, individualized care they need to return to and maintain a healthy, engaged life.
Additionally, Cuyahoga County faces a critical shortage of hospital beds available for psychiatric and substance abuse needs – a shortage of at least 221 beds based on national benchmarks. These shortages are having rippling negative effects throughout the county as individuals are being seen in emergency departments, and too often sent home with no follow-up care.
For all these reasons, the entire community pays more in added costs for public safety and health care. First responders become responsible for crisis intervention. Jails fill up with people who need treatment, not punishment. And then there's the heavy price paid by struggling individuals and their families.
What type of treatment will this Center provide?
This 110-bed facility will treat adolescents, adults and seniors for mood disorders, thought disorders, addiction and other medical issues.
Adolescent unit spaces will be designed for recreation and staying active. Adult units will be designed with a focus on group therapy. Geriatric spaces will optimize care needs for those suffering from dementia and other conditions. MetroHealth anticipates the average length of stay will be between seven and 10 days. The facility will provide outpatient care as well.
Why build this Center in Cleveland Heights and not as part of MetroHealth's Campus Transformation on West 25th Street?
Eastern portions of Cuyahoga County have a larger bed shortfall per capita as well as a greater need for covering a diversity of patient conditions and their ability to pay. MetroHealth has recognized this area as having the most significant need for treatment options in Cuyahoga County based on the infrastructure of care currently available.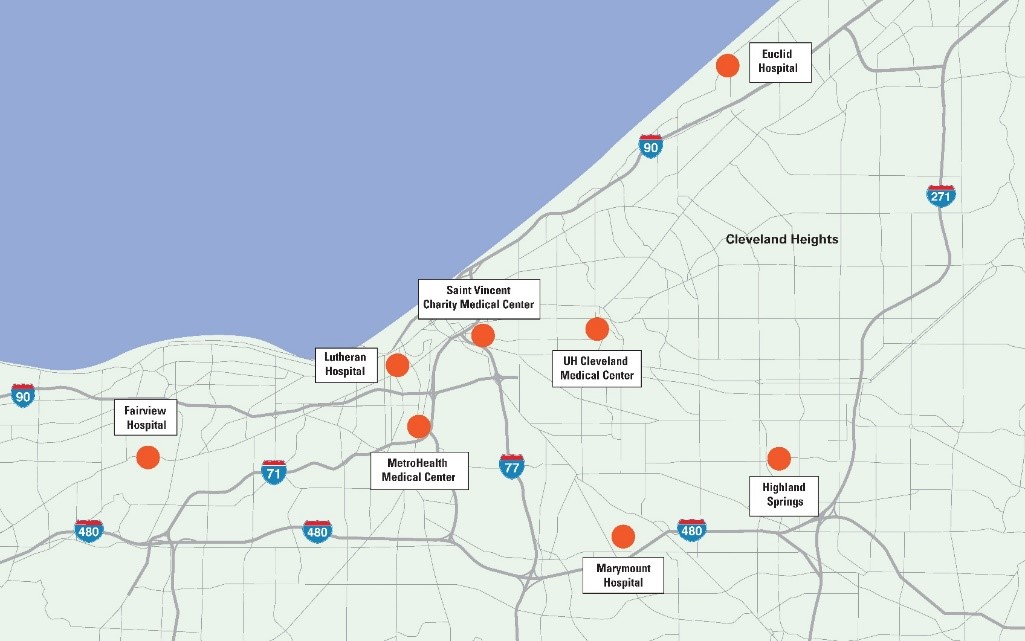 What are the expected impacts of the Center?
MetroHealth's plans will help improve Cuyahoga County's efforts to treat patients and have cascading benefits for all of Cuyahoga County. Efficient behavioral health treatment saves significant dollars. People who get proper treatment will be healthier and better able to hold jobs. An investment in comprehensive behavioral health services can decrease pressure on the adult and juvenile justice systems. Other expected impacts include: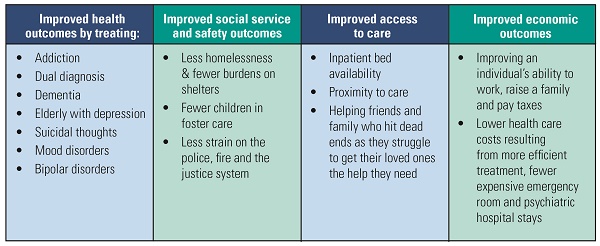 How will this be financed?
MetroHealth will provide the majority of the funding. Cuyahoga County has proposed contributing $5 million from its Opioid Mitigation Fund.
Will any financial support (TIFs, abatements, etc.) be needed from the City of Cleveland Heights?
No.
What impact should we expect on parking/traffic?
There should be no impact on existing services at MetroHealth's Cleveland Heights Medical Center. We anticipate more cars in the lot during construction, but there will be adequate parking.
How many jobs will be created by the new Center?
It will employ approximately 155 new people the first year, rising to 225 people after five years. The additional payroll will be approximately $10 million the first year and rise to more than $15 million within five years, which would generate an additional $340,000 in payroll taxes annually for Cleveland Heights.
How does MetroHealth intend to deal with security at this facility?
The MetroHealth Police Department will provide around-the-clock security, as we do at all of our health care facilities, including the current Cleveland Heights hospital. Our officers are specially trained and experienced in dealing with patients suffering from behavioral health issues.
What will the facility look like?
MetroHealth has engaged Anchor Health Properties, a national firm with 35 years of experience developing medical facilities, as well as Hasenstab Architects, an Akron-based firm with emphasis on healthcare, behavioral health, education, laboratory and research design.
When will the Center be complete?
We anticipate opening in late 2022.