How to Choose: Telehealth Versus In-Person Visit
Telehealth (also called video, virtual or phone) visits offer great convenience for patients, but there are times an in-person visit is the better – or only – option you should choose. How do you know whether to schedule a telehealth visit or an in-person visit? Use the information below to help you choose.
Telehealth Visits
You can see a provider through a telehealth visit for these types of concerns:
Common ailments, such as fever, cough, cold or flu
Nose and throat, such as sore throat, sinus infections, stuffy nose or hoarseness
Respiratory, such as infections, bronchitis, seasonal or pet allergies (If you are experiencing symptoms of coronavirus/COVID-19, please call our hotline at 440-592-6843)
Eye infections, irritations or pink eye
Chronic disease management (Diabetes, Headaches, High Blood Pressure, High Cholesterol, Weight Management, Smoking Cessation) after you have an established plan with a provider
Skin and nails, such as minor burns, rashes, dry skin/eczema, poison ivy/oak, insect bites athlete's foot, ingrown nails or acne
Gastrointestinal, such as heartburn, nausea, vomiting or diarrhea
Women's health issues, such as urinary tract infections
Joint or back pain/sprains
Cuts that do not require stitches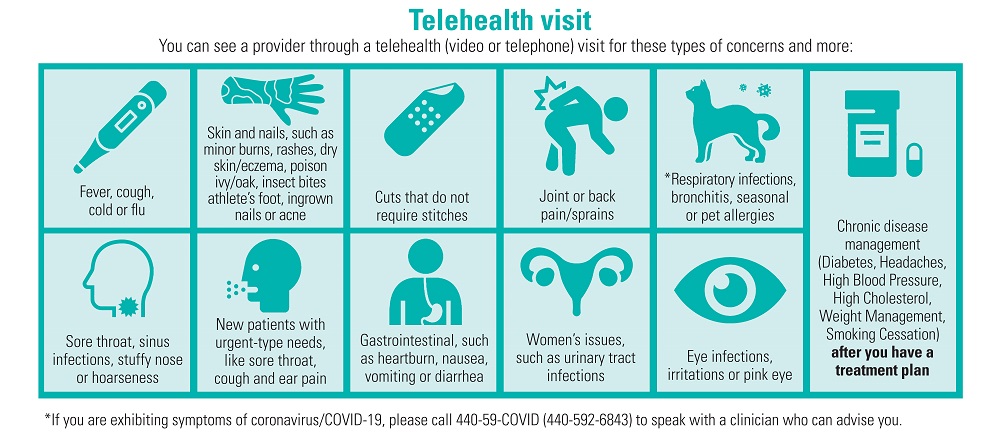 In-Person Visits
Learn about in-person appointments
You should always see a provider in-person for these concerns:
Annual preventive care/physical exam at any age
Any reproductive, health-related issues
Upset stomach or stomach pain
Issues that require a physical exam, such undiagnosed chest or abdominal pain; foot exams for diabetic patients; EKG (electrocardiogram/heart electrical function test), labs, mammograms or other tests and screenings
Ongoing new symptoms (such as fatigue or generalized pain) that require a physical exam and other tests
Procedures, such as suture removal, breathing treatment, earwax flushing
New patients should establish a relationship and rapport with their provider

Emergency Department
You should always go to the Emergency Department for:
Bleeding that does not stop
Chest pain
Difficulty breathing
Drug or other poisoning
Loss of consciousness
Major burns
Sudden loss of or blurred vision
Weakness on one side, drooping of one side of the face (stroke symptoms)
Your MetroHealth care team is always here for you, whether it's in person or through a telehealth visit. If you're not sure what visit type is best for you, call or MyChart message your provider today. If it's an emergency, call 911 or go to the closest Emergency Department near you.