We're Just Getting Started
MetroHealth's beginnings may date back to 1837, but when it comes to the work we do, we're just getting started. That was the overall message President and CEO Akram Boutros, MD, shared with an audience of over 450 at our Annual Meeting Friday morning.
"Advancing medical care has been the central focus of every hospital system. For MetroHealth, it is only a part of what we do. We are driven by the relentless pursuit of healthy, thriving communities for everyone," Dr. Boutros said.
"I'd like you to imagine a better future," Dr. Boutros said as he concluded the meeting. "A day when people across the country and around the world come to Cleveland to see how we stopped disease before it took hold. It will be our finest day when all those people come to us and ask how we did it. It will be our finest day when we look them in the eye and say: "This is Cleveland. We're just getting started."
MetroHealth Announcements included:
For a complete list of announcements, see our Newsroom.
Attendees received a copy of the 2018 MetroHealth Annual Report.
Development Rendering 1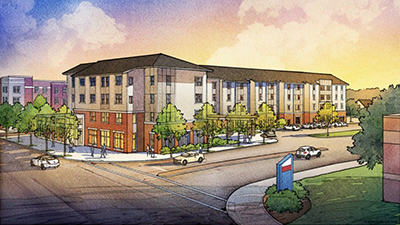 Development Rendering 2
---
For Our Patients. For Our Community.
Transformation - About Our New Hospital
MetroHealth has begun construction on a new hospital and reimagined main campus. The new 11-floor hospital will be LEED certified, and the campus will sit in the first EcoDistrict anchored by a health care system in the U.S. Read on for more information about this ambitious community revitalization project.